Ripple has made a moderate fall over the last 24 hours, and it has shown three huge price shifts to justify its 2.54% decline in the value. However, XRP coin's market cap has shown an increment over these 24 hours.
Ripple Price Analysis
XRP coin opened the day at 0.2677 USD, and over the next 4 hours and 17 minutes, the price fell to 0.2620 USD due to a 2.13% decline. The second variation happened between 09:00 UTC and 14:32 UTC, and in these 5 hours and 32 minutes, Ripple price loses 6.40% to be placed at 0.2518 USD, the lowest of the day. It was followed by a 3.96% hike over the next 11 hours and 26 minutes, and this hike pushed XRP price to 0.2618 USD from 0.2518 USD.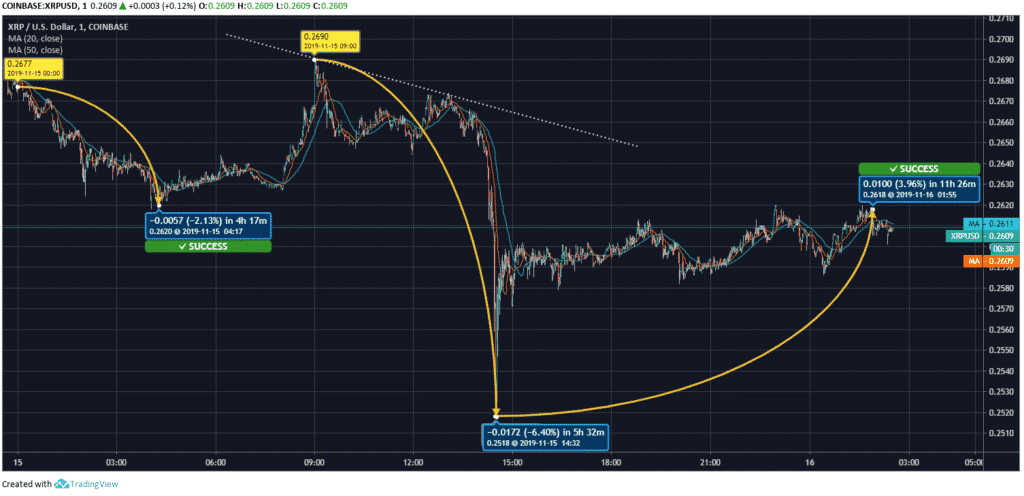 Ripple's market cap on November 15 was 11.329 billion USD, and it has risen to 11.357 billion USD over the last 24 hours. It should be noted that it's market cap was on a gaining mode since November 12 apart from yesterday.
The 20 days average of XRP is now at 0.2609 USD, and it's 50 days average stands at 0.2611 USD. Ripple may have its next halt at 0.2685 USD.
| | |
| --- | --- |
| Ripple (XRP) | Resistance and Support Levels |
| 1st Resistance | $0.26850 |
| 2nd Resistance | $0.27536 |
| 3rd Resistance | $0.27968 |
| 1st Support | $0.25733 |
| 2nd Support | $0.25302 |
| 3rd Support | $0.24616 |