If we look at the price movement of XRP/USD over this month, the coin has exhibited surge during the opening period of the second quarter, but the same couldn't stay for long. The pace has lowered, and the same might bring loss in the impending days. Ripple price is exhibiting a substantial change in the momentum today. After a hefty loss in the price, the coin might continue to trade downwards in the upcoming days.
Ripple Price Analysis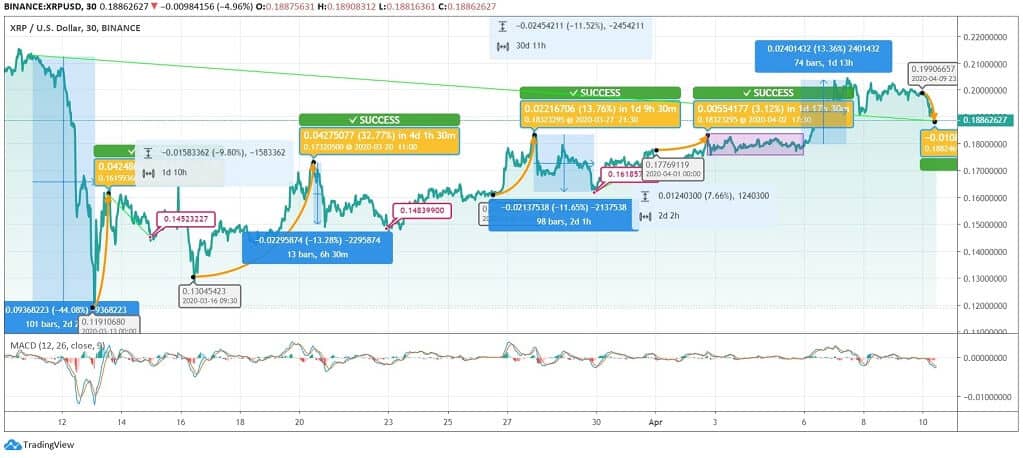 The XRP coin was trading at a high of $0.212 on March 11, and over the next two days, it dropped substantially to $0.119 by a massive drop of 44.08%. The fall was a massive setback for the traders. However, after this drop, the coin registered strong recovery and touched $0.161 on the same day by a 35.67% hike. Later, Ripple price slipped to $0.145 by 9.80% on March 14, and then, it dropped to $0.130 on March 16.
Over the next four days, the coin escalated to $0.173 by a tremendous hike of 32.77%. From this high, the price dropped to $0.150 by 13.28% fall on March 20 and locked the level till March 23. Later, the XRP coin price improved to $0.160 on March 25 and hovered around the same till the next two days. Then, Ripple currency improved to $0.183 but dropped to $0.161 by 11.65% fall on March 30. After this, the price improved to $0.177 and closed the month with bullish influence.
April started with a moderate improvement as the price moved from $0.177 to $0.183. The next three days hovered around the same level, and on April 07, the XRP price touched $0.202. The price was spotted floating around the same level and later dropped to $0.188. The month-long movement brought 11.52% regression.