Ripple price has been gearing itself for a stable upward momentum for the past few days. The efforts are getting paid as the price has managed to give a stupendous performance yesterday as it reached at a high of $0.1748 at yesterday's closing hours. The price of XRP coin was seen fluctuating in the range between $0.1626 – $0.1748 over the past 24 hours.
Ripple Price Analysis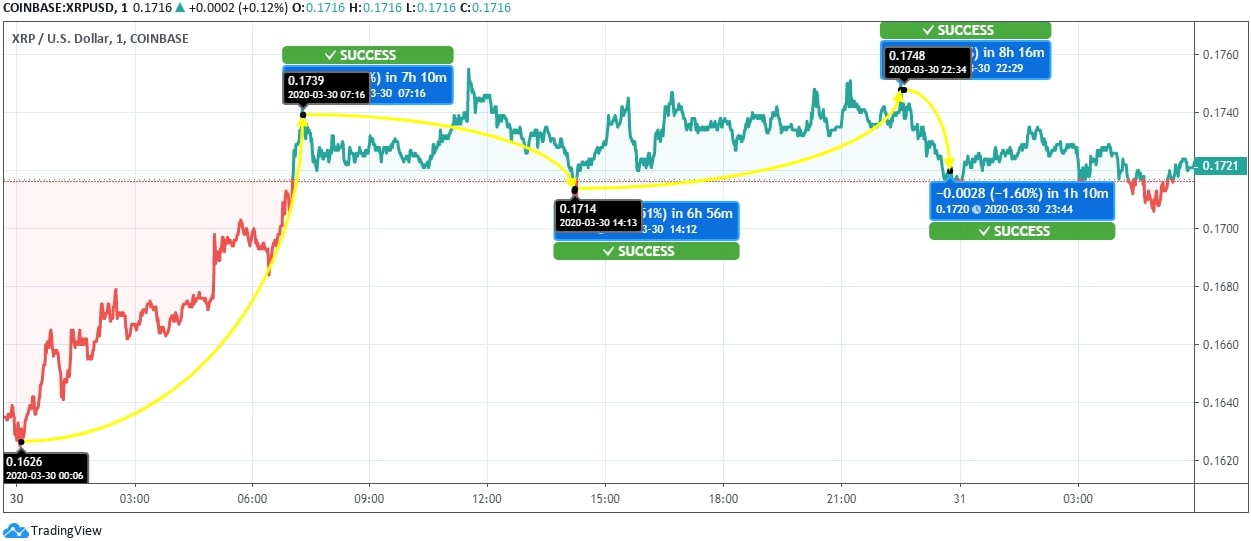 XRP coin has managed to beat the intense bear pressure for the most part of the past one day. The currency started on a low note being below the baseline at $0.1626 at 00:06 UTC. Then, it marked a strong price recovery with a steady upward movement, and the Ripple price reached a high of $0.1739 in the next 7 hours, showing a rise of 6.93%.
Further, the currency traded with moderate momentum. At 14:12 UTC, the price of XRP coin faced a drop, and the price touched $0.1714. From this low, the coin again took an upward rally and reached $0.1748 at 22:29 UTC. Then again, Ripple faced a slight fall, and the price fell to $0.1720, showing a downward correction of 1.60%. Later, the coin continues to fight the bear pressure, and the price spotted at $0.1721 today at the time of writing this analysis.
The price movement of the past one day has risen the hopes of the traders. Analysts are banking on this capability of the Ripple cryptocurrency to withstand bear pressure at regular intervals to surge ahead in the future and give great returns when the crypto market stabilizes a little.