The price movement of the coins is currently under market pressure. The current momentum ruins the considerable improvement that took place at the opening hour. The chances of improvement are scarce on the intraday chart.
Today, Ripple has already violated the immediate resistance in the opening hours. However, the coin couldn't manage to hold the upside momentum in the second half of the day. The traders interested in investing in XRP coin are recommended to go for long-term investment.
Ripple Price Analysis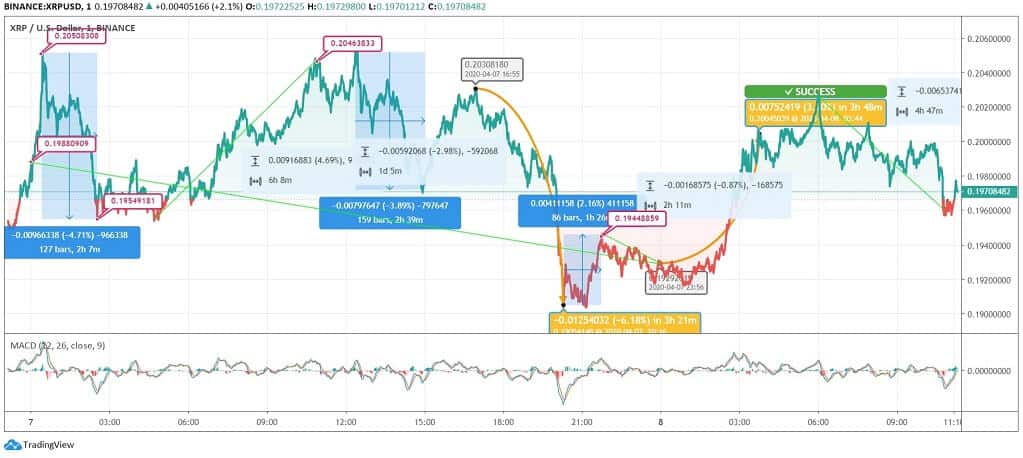 Ripple started yesterday at $0.198, and in the next 20 mins, the price touched $0.205. The currency couldn't hold for long at this level and slipped to $0.195 by 4.71% fall at 02:45 UTC. Then, the currency hovered at the same level for a while. Later, the XRP price escalated to $0.204 at 10:00 UTC by 4.69% hike. The price locked at the same level and later slipped to $0.197. However, Ripple price again improved to $0.203 at 16:55 UTC but took a tremendous plunge to $0.190 at 20:16 UTC. From this low, the currency improved momentum and touched $0.194 and closed the day at $0.0192. The intraday movement in the XRP coin brought 2.98% regression.
Today, Ripple began the day with an upsurge that took the price to $0.200. The same took place in 3 hours and 48 mins. Later, the coin marked a heavy plunge, which brought the price to $0.197 at the time of writing this analysis. The coin is trading directionless as it trades in the middle of the immediate resistance level and the immediate support level. The chances of slipping to the immediate support level are relatively more than the immediate resistance level.