As the market is in a stable mood, XRP has witnessed a mere 1.18% hike on the last day. Its value is right now around 0.1620 USD. There may not be any sudden decrease in the value in the short-term. Investors may expect a bit of stability in the value in the upcoming days. If we look at the price trend of the past 15 days, Ripple has shown decent recovery as it has hit a $0.10 price mark over the said period.
Ripple Price Analysis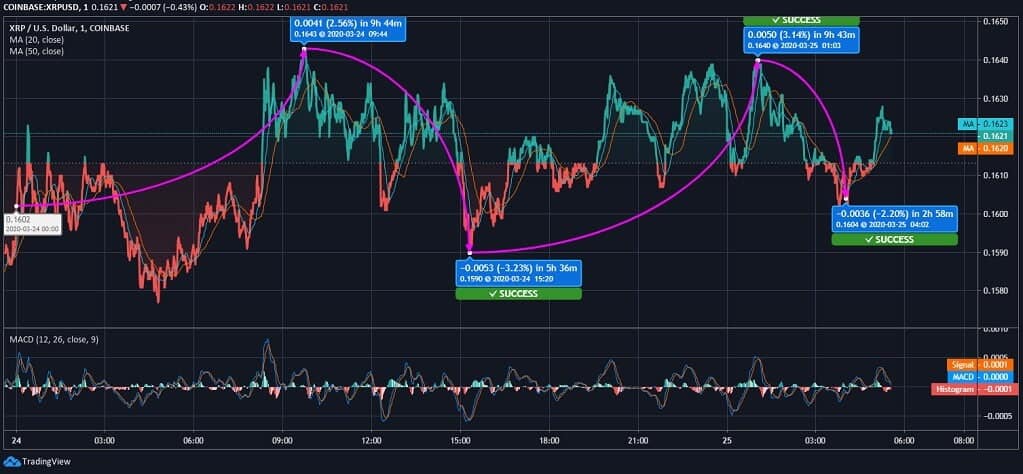 Yesterday, XRP coin started the day at 0.1602 USD, and in the first 9 hours and 44 minutes, it crossed 0.1640 USD mark after a 2.56% increment. After hitting this high, Ripple faced downside correction, and the price fell by 3.23% that cost the coin 0.0053 USD and pulled the value down to 0.1590 USD.
However, after this moderate fall, XRP coin initiated a price recovery. The next swing happened between 15:20 UTC & 01:03 UTC. In this period, the currency touched 0.1640 USD. Later, Ripple price again faced a marginal drop and got narrowed down by 2.20% by 04:02 UTC.
At the time of writing this analysis, XRP price was trending below its daily moving averages, namely, 20 & 50 days. The MACD line stands below the signal line, and there may neither be any sudden rise in the coming few days. The currency may consolidate around $0.16 before making any steep movement.